Busnel Calvados Pays D'Auge VSOP
Regular price
Sale price
$60.00 SGD
Unit price
per
Sale
Sold out
France is not only famous because of its history, its countless attractions, the attractive climate and one of the most popular tourist destinations worldwide, but it is known also for its delicious cuisine, fine wines, its soft voice and the best Brandy.
TASTING NOTES
Golden color with a fresh and rich aromas with fruity notes of apple and fig. Round with notes of cinnamon and mint and the palate. The finish is very long on the palate with notes of coffee and vanilla.
One of these exquisite spirits is called Busnel Calvados VSOP Brandy. The very special old pale Brandy is filled in a particularly elegant, greenish bottle with a long neck and yellow and gold label. Just the sight of this bottle already makes the mouth water. The label bears the inscription: Busnel - Calvados Pays d'Auge - VSOP.
The Grande Ciderie et distilleries in Cormeilles, in the so-called heart of the Pays d'Auge, a small but very famous region in France's Normandy region of was founded in 1910. 
Today the Busnel distillery is responsible for the brand and for the production of Busnel Calvados VSOP Brandy. 
The distillery is also notoriously famous for their special flair for individual and unbeatable flavor. The cellar master of the buton de calm crafts the Brandy with calm, highest concentration and precision, as well as longtime extended expertise. This results in the creation of innovative flavors of highest quality.  
In particular, the blending and distillation this Busnel Calvados VSOP Brandy makes it unique and gives it its special recognition value.
Busnel Calvados VSOP is an apple Brandy. The fermented apple cider is double distilled in a double copper still and is single oak barrel aged for at least four years. Over 40 varieties of apples are used for this creation. 
On opening the bottle an acidic apple aroma with notes of oak, bee wax, baked apple and pear fill the room. The palate is treated to an off-dry caramel-toffee sensation with a refreshing finish.
Of course, you should enjoy this extraordinary Brandy pure and at room temperature. This way one manages to discover the individual sounds and facets of the spirit.
The Busnel VSOP Calvados Brandy is also suitable in a creative cocktail, as a digestive and is also served with coffee and cake. This Brandy is a welcome guest before or after a hearty meal, especially with pork, chicken and baked dessert. 
Volume: 700ml
ABV: 40%
Origin: France
Shipping: Singapore Only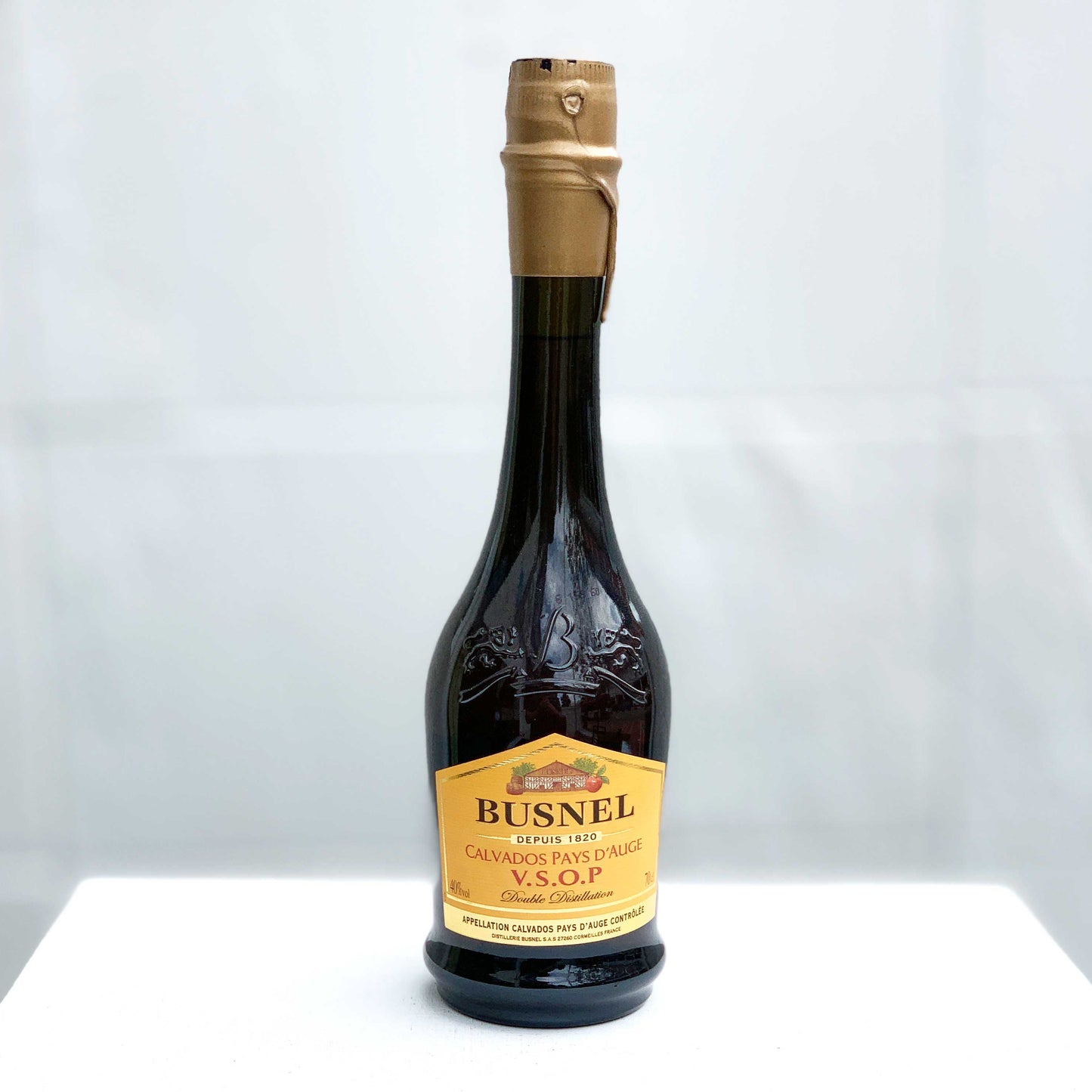 Luxury gifts for everyone