Saint James Rhum Extra Vieux Single Cask 1998
Regular price
$300.00 SGD
Regular price
Sale price
$300.00 SGD
Unit price
per
Sale
Sold out
This is one of several single casks from 1998 St. James has bottled. Released over the span of many years, they should all come from the same new year's eve batch. This particular one comes from cask 888 and has been released in 2009.

The Bottling
St. James might be the largest distillery on Martinique. Founded in 1765 by the alchemist Reverend Father Edmund Lefébure in Saint-Pierre, he named his rum Saint Jacques, in tribute to Jacques Dyel du Parquet (Jacques Dyel was the French governor of Martinique who has bought Grenada from a French company in 1650 to establish a settlement). Eventually the brand has been renamed Saint James, to be more English-sounding and to ease exports to North America. Following the eruption of Mount Pelée (1902) and the destruction of the original plantation, St. James moved to Saint-Marie where it is still producing today. About 3,5 million 0,7 litre bottles can be filled yearly and it is said that St. James is home to the largest stock of old agricole in the French Antilles.
Paulin Lambert, the French importer of St. James rhum bought the company in 1890. He was the first who tried to patent the square bottle design (even though he failed) and one of the forerunners of product marketing for rhum. In 1947, the company has been passed on to his son and nephew, Pierre and Ernest, who increased production to the point of over-production. Combined with plummeting demand, St. James had to file for bankruptcy in 1958. After a couple of years, it found new investors in Picon, who later sold it to Rémy Cointreau, who again sold it to La Martiniquaise, one of the major players in the spirit business and owner of Depaz and Dillion, among others.

According to a certain online shop, 1998 was one of the best years concerning the quality of Martinique's sugar cane. Consequently, many distilleries/ brands seized this opportunity to release special vintage bottlings. Another explanation is that this might simply be the result of a high-yield harvest and the additional output of the distilleries is being released in special "limited edition" bottlings. Which side of the coin you prefer is up to you.

Dégustation "St. James Rhum Vieux Single Cask 1998"

Key Facts: This single cask rum has been distilled on new year's eve 1998 in a creole column still on Martinique. It comes from cask 888 which has been bottled at 43,8% on 7.9.2009. It is hence 10 years old.

Colour and viscosity: Auburn. Thick streaks and fat pearls. An appropriate oiliness for a 10 year old agricole.

Nose: Fresh floral aromas of meadows and vanilla beans. Then more, rather uncommon spices and windfalls such as ripe apples or prunes. After a while I get toasting flavours, unsalted peanuts perhaps. The nose is very lovely but not too complex. Nevertheless, I don't mind spending a lot of time at sniffing this one.

Palate: Mildly, the rhum tastes as expected. Roasting flavours and peanuts, followed by prunes and vanilla are my first impressions. With the second sip I also get cinnamon and liquorice. The rum has a rubbery mouthfeel and a decent amount of wood, which I consider enhancing rather than disturbing. I have tasted a more recent release which was way more 'lignified'.

Finish: Long, dry and unfortunately not very interesting. Plenty of wood, rubber and liquorice.
Volume: 700ml
ABV: 43.8%
Origin: Martinique
Shipping: Singapore Only
ABOUT SAINT JAMES
Saint James Rum was founded in Saint-Pierre de la Martinique in 1765, at the hands of Reverend Father Edmund Lefebure who also happened to be a rather skilled alchemist. The priest crafted a cane spirit, and began shipping the rum to British colonies in North America. He named the rum Saint Jacques as a tribute to Jacques Dyel, which later became known as Saint James in order to sound more familiar to English speakers.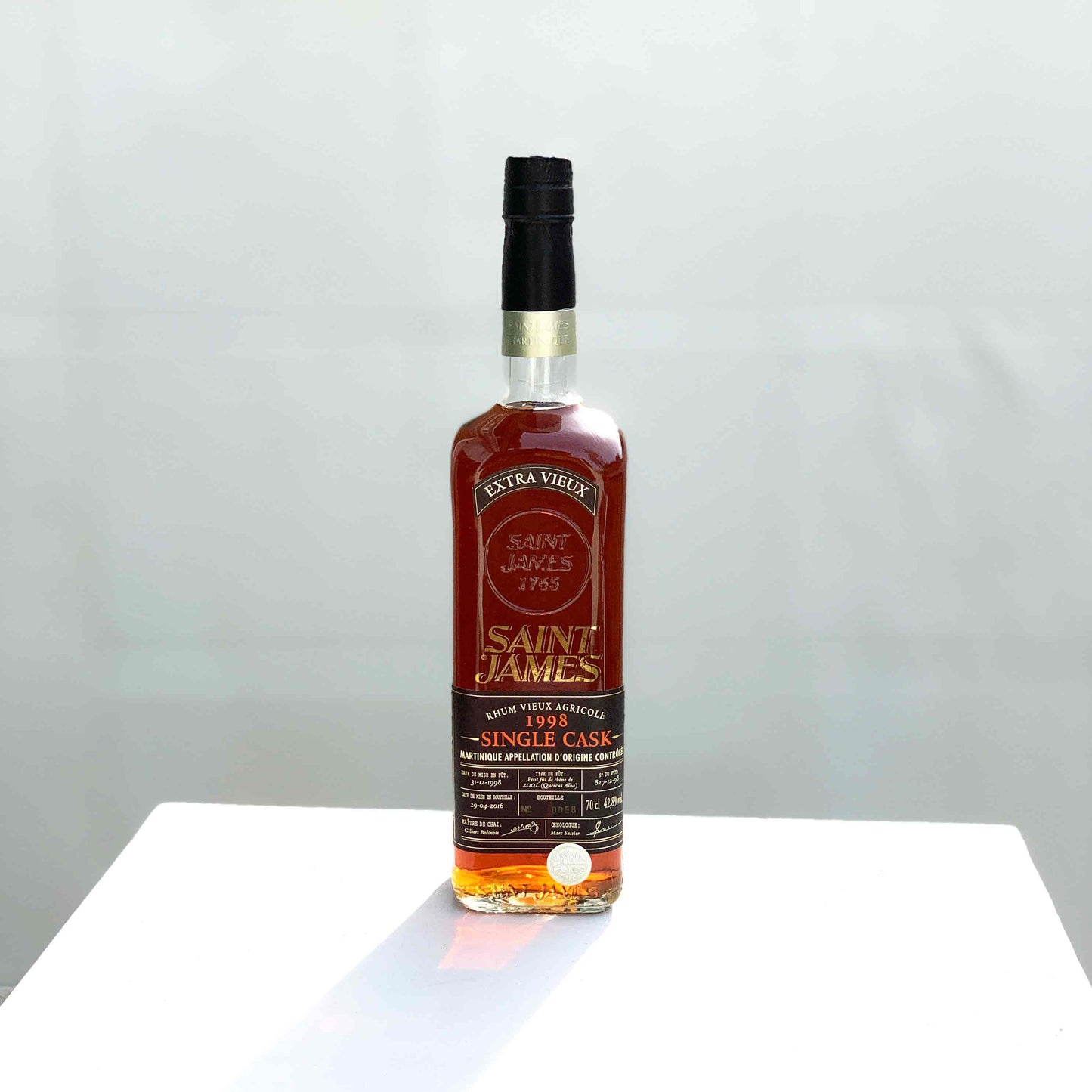 Luxury gifts for everyone